It is time for Texans to make some tough decisions in regard to water policy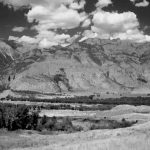 Texas is drying out and changes to the state's water policy are necessary. The rains are not falling in the right areas and it's only going to get worse. Every indicator points to a future of reduced rainfall which equals less ability to refill our water supplies. The 'dry line' that separates the arid and semi-arid portions of Texas from the rest of the state is steadily moving eastward. As the climate continues to change and the rainfall remains away, cities, farmers, ranchers, and the public all have to make serious decisions.
Not many people are around who remember what some call the worse drought in Texas history. In the 1950s Texas, over a seven-year period, virtually no rain fell. The drought has been referred to as the drought that changed Texas Agriculture forever. Over 100,000 farms and ranches ceased operation and the rural population saw a significant decline. At the time the state's population was approximately 7.7 million, today the state's population is approximately 29 million and forecast to be close to 54 million by 2050. This is significant because since 2000, Texas has been in a drought more than it has been out of one.
With a projected population of over 54 million, regardless of where one stands politically, it should be obvious that depending on rainfall to maintain our water supply is not wise policy. As cities continue to grow and expand, the amount of permeable surface that is needed to refresh and refill the groundwater system will diminish. Rural communities who depend on groundwater for their very existence will be threatened with extinction.
Due to urban sprawl maintaining the pristine nature of the Texas water system becomes more difficult. More homeowners will require water to maintain their lawns. Cities will siphon more water from groundwater sources to insure their manufacturing and other sectors stay economically feasible. What can be done to mitigate the damage?
The state must convince cities and towns, especially along and to the west of the IH 35 to create surface reservoirs. These reservoirs can be fed by either rainwater collection, or water pumped in from a non-arid part of the state. Cities should also be encouraged to being water reclamation projects. These could provide non-potable water for use in manufacturing and commercial watering. Agricultural operations should be encouraged to increase the use of low-level irrigation, rainwater collection, plant cover crops, and recycling water for irrigation. Homeowners and homeowners' associations must be encouraged to replace the "English" lush lawn psychology with xeriscaping. Using native Texas plants and grasses will reduce the amount of water necessary to maintain a property. The future of the water supply here in the state is uncertain at best. All concerned parties need to begin planning and implementing practices that will help with long term sustainability of the water supply. It is time to put aside partisan concerns and do what's truly best for the future of Texas.
Follow us on Twitter and Facebook