The conventions of 1832 and 1833 and the proposed 1833 Texas Constitution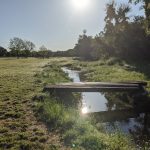 Podcast: Play in new window | Download
The conventions of 1832 and 1833 and the proposed 1833 Texas Constitution. – Episode 21 (Chapter 3 – Audiobook 3) 1830-1861
In previous chapters I've discussed life in Texas in the early 1830s. I've told you about some of the affects the Law of 1830 had on the early settlers. I covered Anahuac Disturbances, the battle of Velasco, and the Turtle Bayou Resolutions, in which, in one of the more ironic moments in Texas history,  many Texans pledged their support to then-liberal Antonio López de Santa Anna. In this chapter, I want to talk more about the conventions of 1832 and 1833. I will also touch briefly on a 1833 proposed Texas Constitution.
The convention of 1832 took place in the 1st week of October 1832. There were Fifty-five delegates, all Anglos, no Tejanos, and they represented sixteen districts. The district of San Fernando de Bexar (AKA San Antonio) which was populated mostly by Tejanos and the district of Victoria did not send delegations. A group of delegates from La Bahía (Goliad), arrived after the meeting had adjourned, and they approved what had been passed.
During the convention Stephen F. Austin was elected president and Francis W. Johnson secretary. The convention also adopted a series of resolutions requesting a 3 year extension of the tariff exemption to Texas. The delegates also requested a basic modification of the Law of April 6, 1830, which would permit more general immigration from the United States. Because of the recent land title controversies, they also passed a resolution demanding the appointment of a commissioner to issue land titles in East Texas. The delegates asked for a donation of government lands for the maintenance of primary schools to be conducted in Spanish and English. They also made a request of the ayuntamiento of Nacogdoches to prevent White encroachment on lands that had been guaranteed to Indians in East Texas.
The convention also established a plan for organizing a militia and committees of vigilance, safety, and correspondence, which would be able to quickly spread any emergency news. William H. Wharton was selected to present the resolutions to the Mexican Congress and state legislature of Coahuila and Texas. Rafael Manchola of the Goliad delegation was selected to accompany him. However, the resolutions were never presented to the Mexican government.
Historians say there were several reasons the resolutions were never presented to the Mexican Congress. One primary reason was that the refusal of San Antonio to cooperate with the convention made it seem that only Anglo colonists were dissatisfied. In addition, the political chief of the province, Ramón Músquiz, ruled that the meeting was unauthorized and therefore illegal. One of the colonists leaders, Steven F. Austin seemed to think the petition for statehood was premature. Finally Santa Anna had not yet taken over the national government from Anastasio Bustamante. The resulting inactivity would lead to yet another convention that took place on April 1, 1833, which was the same day that Antonio López de Santa Anna assumed control in Mexico….
For The Complete Transcript Go HERE