My friends say I need to put my company on TikTok. Do I?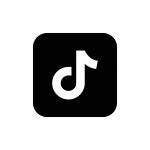 This is another one of those questions that I often get. Whether or not you need to have your company on TikTok depends on your specific goals and target audience. TikTok is a social media platform that has grown rapidly in recent years, with a predominantly younger user base. In marketing your business, it's important to understand what your products are, who your customers are, and where they spend their time.
If your company's target audience includes younger demographics, then having a presence on TikTok may be beneficial in terms of brand awareness and engagement. However, if your target audience is primarily older or not active on TikTok, then it may not be necessary to invest time and resources into creating a TikTok account. Additionally, the content on TikTok is typically short-form and focused on entertainment, so if your company's products or services do not lend themselves well to this type of content, then it may not be worth the effort to create a TikTok presence.
Ultimately, the decision to have a presence on TikTok should be based on your specific business goals and target audience. If you do decide to create a TikTok account, make sure to have a clear strategy and plan for creating engaging content that aligns with your brand's messaging and values. Putting your company on TikTok without having a well designed campaign is a waste of time.
If you would like to talk with me about your Digital Marketing or Marketing your Company in general, use this FORM