Hidden History Of Texas Episode 19 – Texas 1830-1832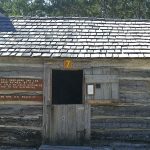 Podcast: Play in new window | Download
Hidden History Of Texas Episode 19 – Texas 1830-1832 – To date, together we have traveled back in time to the 1500s and taken a look at some of the people and events that occurred. Now we're up to about 1830 and the Anglos have moved into Texas and tension is beginning to run high. In this episode I want to take a look at Texas in the years 1830 through 1833 and talk about some of the issues that arose.
By 1830 eastern Texas had approximately 20,000 settlers and 1,000 slaves and greatly outnumbered the 5,000 Mexicans who lived in the area.  It's important to remember that the majority of the early settlers in Texas came from the South and as a result they brought with them their belief system. These beliefs and yes prejudices would come to play a role in spurring the upcoming revolution.
The settlers showed little interest in Catholicism and other aspects of Mexican culture. The expansion was a quest for a better chance and more living room and in many ways the Americans kept their culture. Economic opportunities were what settlers were after, not cultural preferences.
This is most clearly seen after Mexico abolished slavery and by 1829 the colonies teetered at the brink of revolt.  In response, President Anastasio Bustamante implemented the Laws of April 6, 1830. The law provided the same type of stimulus to the Texas Revolution that the Stamp Act was to the American Revolution. It was initiated by Lucas Alamán y Escalada, the Mexican minister of foreign relations, it's primary goal was (wait for it) to stop the flood of immigration from the United States to Texas. Before I go much further into some of the other aspects of the law, one giant issue that must be addressed is the one of slavery. Remember, the majority of the new Texas immigrants came from the southern United States and slavery was very much a part of their accepted culture.;;;