Episode 23 – We've Made It To 1835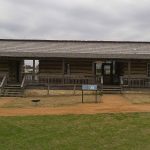 Podcast: Play in new window | Download
We've made it to 1835 and things are about to get much more dangerous. In this chapter, I will talk about two significant occurrences that took place. The Battle of Gonzales and, the Siege of Bexar (aka San Antonio).
Domingo de Ugartechea , who was the Mexican military commander in Texas, received word that the American colonists of Gonzales refused to surrender a small cannon that had been given that settlement in 1831 as a defense against the Indians, he sent a force of about 100 dragoons to retrieve it.  He realized that, given the tensions between the Texans and Antonio López de Santa Anna 's Centralist government, the slightest provocation might ignite hostilities.
He therefore instructed his men to avoid open conflict if possible. The company rode out of San Antonio de Béxar on September 27, 1835. On September 29th, the company lead by Francisco de Castañeda  reached the Guadalupe River opposite Gonzales where they found their path blocked by high water and eighteen militiamen (later called the Old Eighteen).
The militiamen told Castañeda that the Mexican dragoons would have to wait on the west side of the river until the alcalde Andrew Ponton returned. Since he was unable to proceed, Castañeda pitched camp 300 yards from the ford. As he awaited word from the absent alcalde, the men of Gonzales summoned reinforcements from several of the surrounding settlements.
For the complete Transcript go HERE