Conflict – Learn How To Resolve Conflicts Among Individuals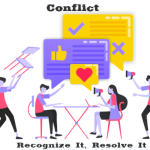 This course is designed to provide the student with the tools necessary to understand conflict between people. In it I define what conflict is. I lay out the groundwork for what often causes conflict. I discuss the affect, or impact, that unresolved conflict can have on the workforce and also the damage it can do to the individual.
I talk about some of the basic approaches to deal with conflict management and also discuss some key factors for negotiation. This includes some of the psychological matters that must be consider when dealing with conflict. I also discuss what some people consider to be the most effective method of resolving conflict and also the least effective.
If you are working with a small group or trying to convince your bosses to go along with your ideas, this is a valuable tool for you. All of us spend our time attempting to convince another person that we have valid opinions. It is part and parcel of everyday life, and the better equipped we are to communicate what is important to us, the easier it becomes for us to co-exist with others.
Not everything has to be an argument, not everything has to be a fight, it is ok to compromise, it is ok to negotiate, and it is possible to learn how to do it, if we know how to deal with conflicts.
To Sign Up For The Course Of More Information go HERE