Is It Time To End Agriculture Subsidies?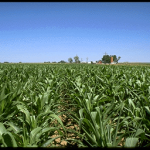 Michael 'Hank' Wilson – Recently a friend posed this question to me, isn't it time that we stopped agriculture subsidies and just let the market decide who survives. I had to think about it, because I have always believed in laissez-faire economics, the policy of non-interference by governments in how companies compete. My initial reaction was a demand-driven, hands-off approach is better.
As I researched the issue of agriculture subsidies, I began to question if that philosophy works in these days of corporate monoliths. Since I am not personally farming, but instead work on the periphery I can only go by my observations and research. What I have found is there are giants who have enough capital to strangle all competition and cut off access to markets. Modern agriculture subsidies do not need to be ended, they need to be more equitable.
Most support is for those who grow corn, soybeans, wheat, cotton, and rice, and they are not based on current or future production but rather historical data on acreage. It seems that the smaller farmers are at a distinct disadvantage. In fact, the USDA says that in 2020, 69% of US farmers did not receive any subsidy. Maybe it is time to ensure that more crops, especially fruits and vegetables have more access to subsidies.
I did find a very interesting November 2021 article on this subject. It turns out the big players not only have the most income, they also get the most help from the government. You can never have a completely even playing field. You can ensure that things are not completely slanted in favor of one side. Just because you have can afford to pay for more influence doesn't mean you're in the right.