Advantages and disadvantages to U.S. agriculture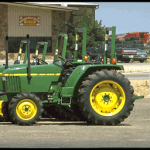 By Michael 'Hank' Wilson – I believe that a major advantage the U.S. agriculture has is in our technology and the rapid way it advances. There are apps and software for pasture management, dairy production, acreage yields, water management, and there is equipment that is second to none to help with efficiency. U.S. agriculture also has incredible diversity in our food production, and when working properly a distribution system that is second to none. We also have some very troublesome spots. Some technology is incredibly expensive and not really cost effective. There is little room for error in handling expenses, and climate change is potentially causing some very major issues.
The small farmer or ranchers who comprise U.S. agriculture is at a significant disadvantage when it comes to competition with the factory farms. The one area they can compete is in flavor and embrace the strategy that many European farms take. As Americans we tend to put quantity ahead of quality and as a result our fresh fruit and vegetables often have much less flavor than their European counterparts. We may not sell as much, but we can sell it at a higher price point. I'm not sure about our love of genetic modification of our food, I think that in the long run we'll see if it was or is as wonderful as proponents claim, or if it was or is as dangerous as opponents claim.
In the end, the U.S. agriculture system of food and fiber production will continue to change as demand changes, and that to me is perhaps our greatest advantage.