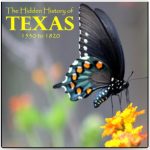 Hidden History of Texas Volume 1 is your introduction into what is often untaught in schools. This unique audiobook is taken from the popular audio podcast of the same name hosted by Hank Wilson.  The audiobook is based on the podcast
In this volume I of the Hidden History of Texas, I  discuss, the Spanish arrive, well almost. The First Peoples of Texas. Comanche, Kiowas, Tonkawas, and the Caddo, Wichita, and Tigua. Culture clashes begin between the new arrivals and those who are already here. The Spanish Presidios create more tensions between the cultures. The Spanish Missions were designed to convert the indigenous peoples, instead they caused more friction. The French dipped their toes in Texas. The question really  is  did Spanish Colonization really have a chance?  A little more about another European country parlez-vous français? The French In Texas, and finally I talk about some changes in Mexico and Spain (1800-1812) that affected Texas.
The audiobook the Hidden History Of Texas is available for purchase and download at these locations.
Follow us on Twitter,  Facebook, and YouTube