Turmoil and Change in Mexico and Texas (1815 to 1821)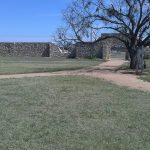 Podcast: Play in new window | Download
In this episode, I'm going to explore Spain / Mexico / Texas and the events that took place between the three nations during the years 1815 to 1821. Before I can really discuss 1815 to 1821 and how the turmoil in Mexico was taken advantage of by some of the resident Anglos. I want to go over some events that took place in Texas between 1812 and 1815. There will also be a mention of the War of 1812 because that war, which lasted until 1815 also affected lives in Texas. Four your further reading and study, my sources for this information are listed at the end of the transcript file and at the bottom of the post.
Remember that Father Hidalgo issued his famous call for Mexican independence in 1810 and over the next several years violence erupted in New Spain or Mexico. At that time Texas was a part of Mexico and so it was natural that the violence and revolution would spill over into the territory.
The rebellion against Spain showed up in Texas in 1811 in San Antonio with what is called the Casas Revolt. This was one of were many challenges to imperial rule that took place after Father Hidalgo made his demands. Manuel Maria de Salcedo, the Texas governor who was loyal to the Spanish monarchy, discovered that the rebels planned on gaining assistance from the United States through Texas….
The Complete Transcript for Today's show is HERE
Follow ARCTexas
My personal account on Twitter