The French dip their toes in Texas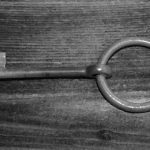 Podcast: Play in new window | Download
Preview of the story….
As I mentioned in our last episode during the period of the 1600s, Spain and France were competitors and they had in fact been at war for years.
Spain was not happy to see France claim any land in the "new World" much less Texas.  Spain had established missions, presidios, and civilian settlements from New Mexico to the Pacific and they viewed Texas as a buffer between themselves and their mortal enemies, the French.  So needless to say, any incursion into their territory, from the Sabine River, (which separates Louisiana from Texas) westward was troublesome.
As a result of the tension between Spain and France when René Robert Cavelier, Sieur de La Salle of France made a claim to Texas by trying to establish what we know as La Salle's Texas Settlement  on the Texas coast in summer 1685, the Spanish authorities were not thrilled.  Who as La Salle? —The answer is in the podcast