Spanish Presidios and tensions begin rising between cultures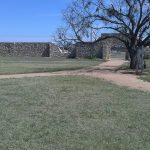 Podcast: Play in new window | Download
Here's the preview of what's in today's story….
So far we've talked about it was about the clash of cultures that occurred between the Spanish and the Native Peoples and how the missions contributed to the clash.
Today I want to talk about the presidios (or forts) the Spanish established alongside the missions. I'll also talk about how the French became involved with Tejas and their influence on the Spanish expansion of both missions and presidios.
Once the Spanish decided to expand their territory northward from its base in central Mexico they knew that in order to be successful, they needed to send more than just missionaries.  They understood that they needed to send soldiers to protect the missions and civilians to build towns.  The combination of presidio, the mission, and the civil settlement became the major foundation the Spanish used for colonization. Martín Enríquez, who was the fourth viceroy of New Spain (1568–80), is generally given credit with being the first to build presidios in the Southwest. He ordered the construction along the main road from Mexico City northward to Zacatecas of casas fuertes (which is translated to "fortified houses"). Over time the name was changed to presidio (from Latin praesidium, "garrisoned place"). The pattern of the early presidios was learned from the Moors (remember how the Moors ruled Spain for close to 800 years, and actually dated and used by the Spanish from the days of their reconquest in Spain. By the early eighteenth century, when Spaniards settled Texas, it had changed but little